Ham Bone Vegetable Soup 1967
MnBiker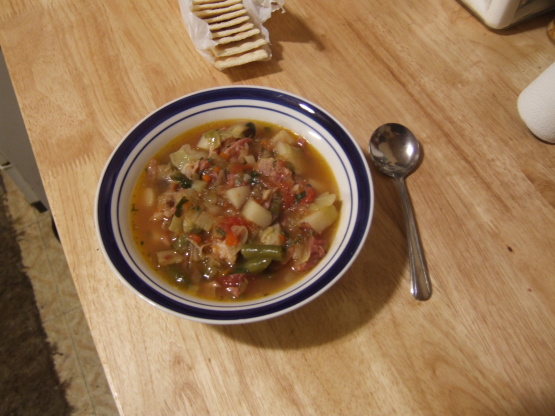 Dutch , german recipe...If I have left over ham meat, I will also add this when I add the cabbage...

I have made this soup many times now and it has become one of my very favorites. The only thing I do different is add celery, green beans, fresh or frozen, cut. and fresh sliced mushrooms.(love my veggies lol) My whole family just loves it too. I want to thank you for sharing this recipe and i tell everyone I know how great it is. And pass it along to them. And I'm glad I could be the first to post a photo. Would have givien it 10 stars if i could........
Heat oil and add onion, carrot, and bell pepper.
Saute until soft and beginning to colour.
Add ham bone, peppercorns, bay leaf and stock or water.
Cover bring to a boil.
Simmer one hour.
Skim off foam.
Add potatoes, cabbage, tomatoes, partially cover.
Cook on simmer for one hour.
Add herbs and sauce and simmer 15 minutes.
Add the parsley last, and serve immediately.