Grilled Shrimp With Mango Salsa
racrgal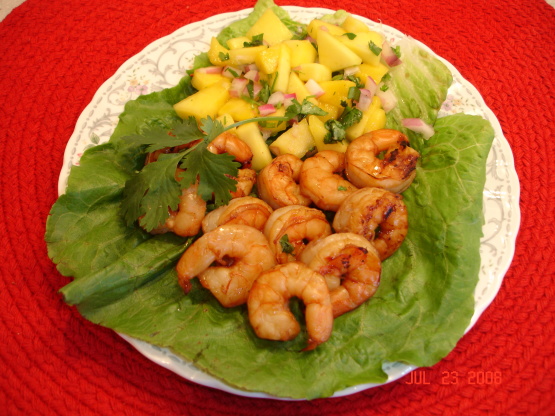 Great Food (01/07 issue) "O, The Oprah Magazine." Created by renowned Chef and author, Nina Simonds'. This dish is definitely one meant for company and a nice get-together. The platter of shrimp should be lined with bibb lettuce cups and basmati rice sprinkled into every cup with wedges of lemon. UPDATE: 07/24/2008 - I forgot to mention that any marindade that is used with fish, chicken, or steak should be thrown away after it has been used to marinate the dish.

A very good shrimp recipe with a caution that shrimp absorbs any marinade very quickly. The 10 minute time stated is plenty. The mango salsa is excellent. If your mangos are not huge cut the lime juice a little bit or it will overpower the mango. You can add more but cannot remove it. The heat of the red pepper, zip of the lime and sweetness of the mango and red onion make a delightful mixture. I have some salsa left and will serve it with grilled chicken or pork. Thanks DiScharf for a summer yummy. :-)
MAKE THE SALSA:.
Combine all ingredients in a bowl.
Set aside, so they can marry.
TO MAKE THE SHRIMP:.
Rinse and drain shrimp; pat dry with paper towels.
In a bowl, combine shrimp, soy sauce and orange juice.
Let stand 10 minutes.
Meanwhile, prepare a grill, oiling the grill rack.
Thread shrimp onto metal skewers (or wooden skewers that have been soaked in water for about an hour).
Brush with oil and grill over medium heat, regularly brushing with soy mixture, 3 to 4 minutes per side, until shrimp are cooked through.
When finished grilling, remove from skewers and place on a serving platter.