Grilled Shrimp With Garlic & Herbs
photo by Ashley Cuoco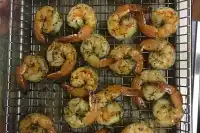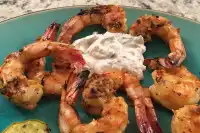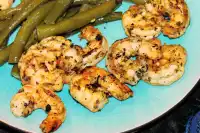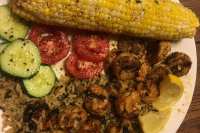 Ready In:

10mins

Ingredients:

9
directions
Mix all ingredient in a bag and marinate for 20 minutes in the refrigerator. Prepare grill to high heat and grill for 5-6 minutes turning to char all sides.
Reviews
WOW - this recipe is fabulous!!! We made it for a 4th of July party and it was a hit. My 16 year old son took over the prep for this one and he added lemon zest and a little white wine and fresh basil in place of the dried. The shrimp ended up marinating for a few hours before we grilled them and the flavour was great. Thanks for sharing, Rita!!

 

THIS SHRIMP IS ABSOLUTELY AWESOME! I've never been a fan of ANY shrimp that I personally cook... I'm such a good cook generally speaking so it's difficult for me to admit that im somewhat intimidated by shrimp because I've always ended up with dry flavorless shrimp.. but this recipe was a gave changer for me! This shrimp tasted just like they came from a $25-$30 a plate seafood restaurant... And they actually came from my kitchen.... And they didn't get any pots or pans dirty! I used a a pair of tongs to grill shrimp and zip lock bag to mix up marinade and knife to chop the garlic and I actually used about double the amount of garlic and I used specified amounts of BOTH dried AND fresh basil from my garden. I didn't have any Italian seasoning so I subbed dry Italian dressing mix. I probably overcooked the shrimp out of fear of undercooking them. Since they were slightly charred I decided to mix together a couple cloves minced garlic with unsalted butter and a couple dashes of three peppers (red, white AND black) and microwaved for thirty seconds to melt mixture. I originally served the melted butter as a sauce but ended up brushing it on ALL the shrimp as it was so wonderful! I served with boxed wild rice cooked in rice maker and fresh tomatoes cucumbers and corn on the cob picked from my own garden right before I serviced dinner. I microwave corn husk and all for around 3-4 minutes then turn over and nuke another 1-2 minutes and brushed with butter, cilantro, chili powder, kosher salt and fresh cracked black pepper. I served with lemon wedges garnish. All in all FOR ENTIRE MEAL... I spent 10 minutes prep, 15 minutes cooking and 5 minutes preparing the plates. I rarely take the time to write reviews Which is unfortunate because I depend on others opinions when deciding on what new recipe to try. Immediately upon tasting my first shrimp tonight I knew I would take the time to review this awesome recipe. I will be serving this for company over and over as prep and cook time are great for easy weeknight dinner so to be good enough to serve company with that short of prep/cook time is even better! I will however use skewers next time so that it will be much easier to flip the shrimp.... And I may experiment with replacing basil with cilantro and lemon with lime.... And a dash or two of red pepper (cayenne) for a Mexican style shrimp! Thank you SO MUCH For sharing this recipe!