Juenessa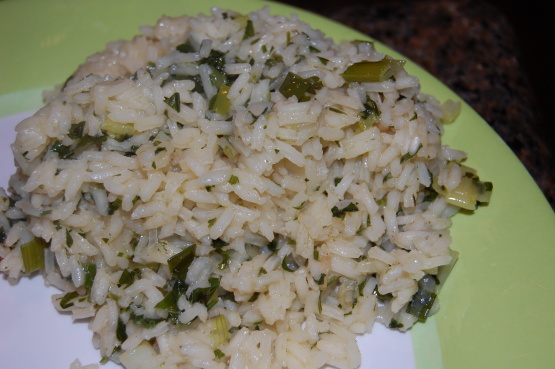 Green onions and parsley give this recipe it's name. But the appealing flavor is what makes it memorable.

This is a very flavourful and tasty rice. My mom, dad, my brother and me, we've all loved it. I used 1 3/4 cup of green onions and 3 1/2 cups of vegetable stock(instead of chicken broth, in order to make it vegetarian).I used black pepper instead of cayenne pepper. Also, I suggest not to discard the bay leaf at the end but to allow it to remain in the rice so that it's wonderful smell remains for a longer time in the rice. This was the best dish I made today for the Zaar Cook A Thon! Thank you!!
In a saucepan, saute onions and parsley in oil and butter for 1 minute or until tender.
Add rice; cook over medium heat until rice is coated with oil and translucent, about 3 minutes.
Stir in broth, cayenne pepper and bay leaf.
Bring to a boil.
Reduce heat; cover tightly and simmer for 18-20 minutes or until liquid is absorbed and rice is tender.
Discard bay leaf.