Green Bean and Mint Salad
JustJanS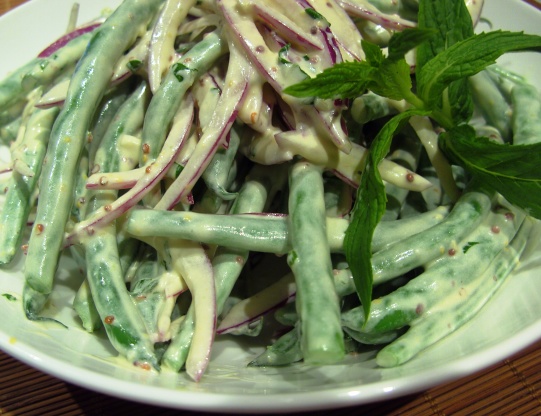 Young fresh green beans or haricots verts, make this a very nice side salad.

A lovely fresh tasting salad thank you Grannydragon. I made enough for 3 (300g beans) and half a recipe of dressing. It emuslsified sort of-didn't get particularly thick and creamy but I think a full recipe would. I used wholegrain mustard and preferred to slice my red onion finely.
In a small bowl, whisk together the garlic, mint, lemon zest and juice, and mustard. While whisking, slowly add the olive oil and whisk until thick and emulsified.
Whisk in the sour cream and Tabasco sauce.
Season to taste with salt and pepper.
Put green beans and red onion into a large bowl.
Pour the dressing over the beans and toss well. refrigerate at least 30 minutes or up to 24 hours before serving. The 30 minutes is not cooking time, but is the time allowed to blend the flavors while in the refrigerator.