Gingerbread Snowflakes With Icing That Hardens
Calee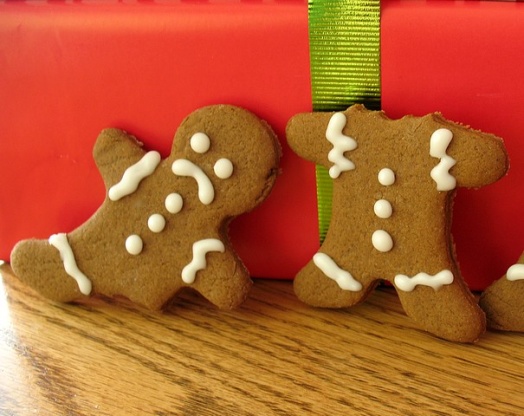 When I made these I did not get 5 dozen cookies, it will depend on the size you cut them so yield is only estimated, also I added 1/4 cup more sugar as we prefer a sweeter cookie --- plan ahead the dough needs to chill for a few hours before rolling out, prep time includes chilling time --- this icing will harden on the cookies once dried --- of coarse you may cut into any desired shapes

Top Review by mcann1
I made these to take them to my Mom's annual Christmas party. At first, I worried that the dough was too thick, and that the cookie would burn before it cooked or be too soft. But they were perfect! Everyone loved them--there were a lot of desserts, but people went out of their way to tell me how wonderful they were, always mentioning how soft they were. Also, I increased the ginger by a tsp. and added a 1/4 tsp cayenne pepper. My family and friends loved the little kick. I did increase the confectioners sugar amount a little, as I was just outlining, no flooding. I also used a fine real lemon oil flavoring. The tart lemon with the spiced up gingerbread was perfect. These cookies have just become a new family tradition for me. Thanks Kittencal!
Set oven to 350 degrees F.
Prepare ungreased baking/cookie sheet/s.
In a large mixing bowl cream the butter with sugar until fluffy (about 3 minutes).
Beat in molasses and water.
In another bowl combine flour with ginger, baking soda, cinnamon, allspice and salt; add to the creamed mixture and mix until well combined.
Cover the bowl and refrigerate for 1 to 1-1/2 hours or until easy to handle.
Lightly flour a work surface.
Roll out the chilled dough to 1/4-inch thickness.
Using star-shaped cookie cutters dipped in flour (about 2-1/2 inches wide) cut out shapes.
Place the dough stars onto prepared cookie sheet about 2-inches apart.
Bake for about 10-12 minutes or until edges are firm.
Remove to wire racks and cool.
For the icing; in a bowl combine all icing ingredients until smooth and well combined.
Transfer to a heavy small plastic bag, then cut a small hole in a corner of the bag.
Pipe the icing around the edges of the cookies or as desired (the icing will harden upon standing).