The Most Wonderful Gingerbread Cookies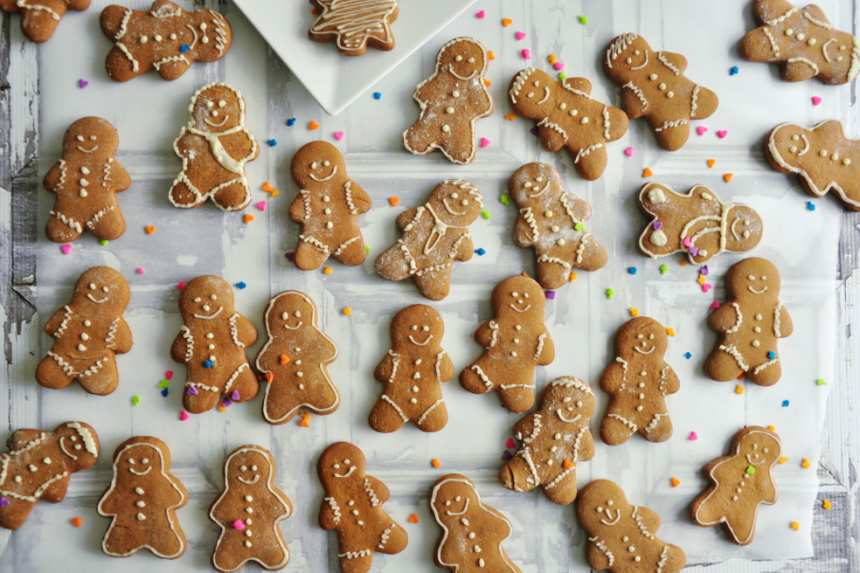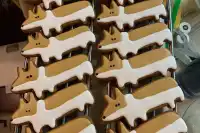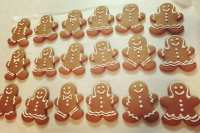 Ready In:

2hrs 23mins

Ingredients:

13
directions
In a small bowl, whisk together flour, baking powder, baking soda, salt, ginger, cinnamon, and cloves until well blended.
In a large bowl (KitchenAid's great for this) beat butter, brown sugar, and egg on medium speed until well blended.
Add molasses, vanilla, and lemon zest and continue to mix until well blended.
Gradually stir in dry ingredients until blended and smooth.
Divide dough in half and wrap each half in plastic and let stand at room temperature for at least 2 hours or up to 8 hours.
Preheat oven to 375 deg. Prepare baking sheets by lining with parchment paper.
(Dough can be stored in the refrigerator for up to 4 days, but in this case it should be refrigerated. Return to room temp before using.) Preheat oven to 375°.
Grease or line cookie sheets with parchment paper.
Place 1 portion of the dough on a lightly floured surface.
Sprinkle flour over dough and rolling pin.
Roll dough to a scant 1/4-inch thick.
Use additional flour to avoid sticking.
Cut out cookies with desired cutter-- the ginger bread man is our favorite of course.
Space cookies 1 1/2-inches apart.
Bake 1 sheet at a time for 7-10 minutes (the lower time will give you softer cookies-- very good!).
Remove cookie sheet from oven and allow the cookies to stand until the cookies are firm enough to move to a wire rack.
After cookies are cool you may decorate them any way you like.
I usually brush them with a powdered sugar glaze when I am in a hurry, but they look wonderful decorated with Royal icing.
Questions & Replies

Reviews
Excellent recipe!! <br/><br/>I followed it to the letter and no need to reduce the flour at all (I HARDLY TOUCHED THE DOUGH! ) thanks to THE BEST HINT i read from another user on food.com (either on this recipe or another one i am not sure):<br/><br/>*ROLL THE CHILLED DOUGH BETWEEN WAXED PAPER<br/>*TAKE OFF THE TOP PAPER and CUT OUT THE SHAPES (puzzle like) WITHOUT MOVING OR HANDLING THE DOUGH AT ALL<br/>*~PUT THE PAPER & DOUGH ON A BAKING SHEET IN THE FREEZER<br/>*TAKE OUT AFTER 10 min AND THE SHAPES ARE SO EASY TO REMOVE WO BREAKING! ONTO A BAKING SHEET STRAIGHT INTO THE OVEN!<br/><br/>I did all kind of shapes even the mini stars came out perfect!! The taste was delicious!!<br/><br/>Many thanks for sharing this recipe!

 

This is a great recipe for gingerbread cookie lovers; great ginger taste (a tablespoon had me sneezing for about a minute) which is the main reason why it gets my 4 stars. However on the second batch of cookie dough I did a little tinkering. The first batch I followed the recipe to the letter, but I think there is an issue of word usage in the directions. It says after adding the last bit of the dry ingredients to mix until dough is smooth. This dough will not be smooth but more like pie crust, so make sure you mix until well incorporated. It will be pretty much a heavy chunk of heavenly smelling dough that can easily divided to chill. Also with as much ginger this recipe calls for, keep in mind even after baking these cookies will have a strong ginger flavor which is great for gingerbread cookie lovers like myself, but be prepared for the non-fans. A nice coating of Royal Icing can help in this regaurd, or the traditional raisins. My second batch I reduced the amount of flour to 2 1/2 cups, and reduced the ginger by half. Since gingerbread is used for cut out cookies there is the risk of the dough becoming tough using the dusting of flour to keep it from sticking. There is already quite a bit of flour in the dough itself so you will need even less flour dusting than say with sugar cookie dough, however after repeated dusting and handling, reducing the cooking time won't help having a rather hard cookie after cooling. Using a half cup less flour there is room for dusting and handling no problem, but make sure you chill at the very least 3-4 hours and keep dough you're not using in the frige. Reducing the amount of ginger by half gives the cookie a more mild ginger flavor which appeals to children far better as well as those finicky "big kids" who want a more sweet cookie. Otherwise it's a great recipe for a traditional Christmas cookie making it well worth your time and love.

 

Cut the recipe in half. Let sit for 1.5h at room temp. Made circles Bc we didn't have any cutters. Also substituted coconut oil for butter 1:1 ratio. Totally don't taste the coconut which was great for us. Husband hates anything coconut flavor. He loved these btw. Made these with my son and loved them! Thank for this. It will be a staple in our family. Added some powdered sugar, vanilla extract and water glaze on top!!! Yummy ??

 

This is a great recipe, people who have bad comments on it obviously screwed it up. If you follow the instructions carefully and double check measurements you will have no problems. The dough will look dry af when you work it together. If you keep stiring and pressing the dough down it will eventually combine. If it's still too dry you've obviously added too much flour. The measurements are pretty precise. What I tried was keep rotating and condensing the pieces together in a bowl until it is combined and uniform with care not to actually knead it. Let it sit for an hour or two to "soak" up the ingredients and you will be fine. Note, USE FANCY OR ORIGINAL UNSULPHERED MOLASSES. Blackstrap molasses are bitter and not as sweet. It will ruin your cookies!!! This is a fairly spicy cookie, you can tone it down by adding a bit less of each spice. I added an extra 2 Tbsp of butter to jazz it up a bit and a bit less baking soda/baking powder so it doesn't spread as much as I was trying retain the shape I cut out! Good luck!

 
Tweaks
I would like to offer a suggestion for those who had a problem with the dough being too dry. Instead of measuring dry ingredients with measuring cups, use a kitchen scale and weigh them in grams. Using this method is far more accurate because ingredients can settle and become compacted during storage. This is especially true of flour and other powdery substances. The King Arthur Flour company has an easy to use conversion table with a very extensive list of ingredients. Here is the link to the conversion table: https://www.kingarthurflour.com/learn/ingredient-weight-chart.html Copy and paste it into the address bar of your device if it doesn't become a hyperlink. Digital kitchen scales are available for around $10.00 or so and they make the process of measuring ingredients much easier and much more accurate. I use mine for dividing meats and other items into portioned packages before freezing, too. It's one of those things that, after having it for a while, you wonder how you managed without it for so long ! I hope that this is helpful for some, there's nothing as frustrating as devoting your time and energy coupled with the cost of using high quality, expensive ingredients into a baking project only to have it fail to meet your expectations or, even worse, fail completely. . .

 

I'm not a huge fan of ginger, so I only used about half of what the recipe called for, and it was just the right amount. I also used a little bow-tie cookie cutter on my gingerbread men and then filled the space with crushed red jolly ranchers. The hard candy melted as the cookies baked, giving my men each a shiny red bow-tie. (The ladies got sprinkles.) Super fun.