Garlic Roasted Grape Tomatoes in Olive Oil
CJane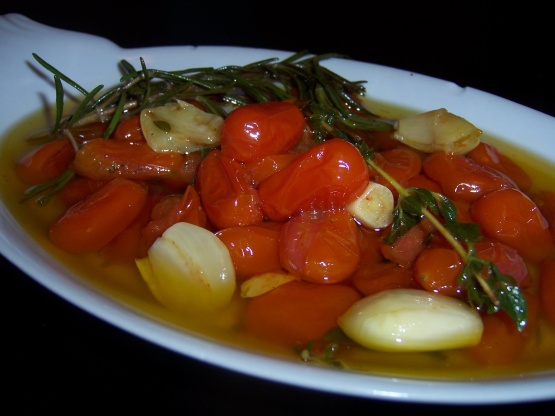 Simple ingredients really make an impression here. Now, usually my recipe fondness is biased to desserts, but every now and again, a "foodie" one will catch me off guard! We like this with pasta, chicken, and on sandwiches with thinly sliced ham, turkey, provolone, and mozzarella.
Preheat oven to 400*F.
In a roasting pan, toss the tomatoes with the garlic, red pepper flakes, and 1 tablespoons of the olive oil; season with salt and pepper.
Roast the tomatoes for about 20 minutes, until they burst and their skins begin to shrivel, stirring once halfway through.
Pour the remaining 2/3 cup olive oil into a medium bowl; crush the rosemary and oregano between your fingers and submerge in the oil.
Add the tomatoes and their juices, stir gently, and let stand for 30 minutes before using.
Store remainder in the refrigerator for up to 3 days; bring to room temperature before serving.