Fried Tofu and Spinach Salad
Cynna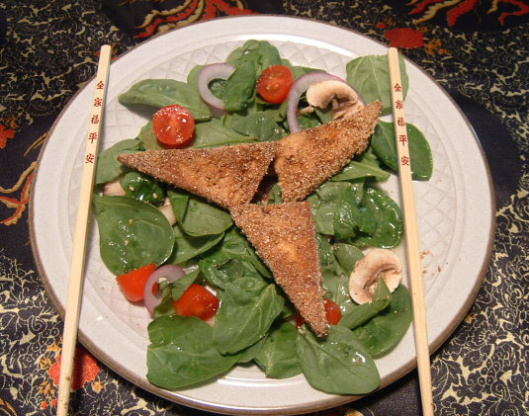 I got this from Better Homes and Gardens. A delicious way to eat tofu!

Top Review by Cynna
I started by pressing the tofu before marinating. I just used two dinner plates and two 32 oz cans on top for 15-20 minutes to push all that excess moisture out. This helps the tofu absorb the marinade more completely and also to help it fry more effectively. This salad was wonderful! I left the watercress out (like everyone else) because I couldn't locate any in our local grocery stores. No matter, it was still wonderful! A fresh and different dressing and the breading on the tofu was yummy! I think next time I try this I'd like to swap out the cornmeal with panko. I'd bet that would be equally delicious and give it a more delicate touch that I imagine would be extremely palate-pleasing. Thanks so much for posting and sharing this recipe with us!
Cut tofu crosswise into eight 1/2-inch slices.
In a 2-quart rectangular baking dish arrange slices in a single layer.
Pour tamari sauce over tofu; turn slices to coat.
Let stand for 15 minutes.
Meanwhile, for vinaigrette, in a blender container or food processor bowl combine vinegar, ginger, sugar, mustard, and salt.
Cover and blend or process until combined.
With blender or processor running, add the 1/3 cup oil in a thin steady stream.
Blend or process for 15 seconds more.
Drain tofu, discarding tamari sauce.
In a shallow dish combine cornmeal and sesame seeds.
Carefully dip tofu slices in cornmeal mixture to lightly coat both sides.
In a large nonstick skillet cook tofu in the 2 teaspoons hot oil for 5 to 6 minutes or until crisp and hot, carefully turning once.
(You may need to cook tofu in two batches; avoid crowding the skillet.) In an extra-large bowl combine spinach, watercress, mushrooms, tomatoes, and red onion.
Pour the vinaigrette over spinach mixture; toss to coat.
Divide among 4 dinner plates.
Cut the tofu slices in half diagonally.
Arrange the tofu over spinach mixture.
If desired, sprinkle with additional sesame seeds.
Makes 4 servings.