Fried Potato and Onion Patties
Bergy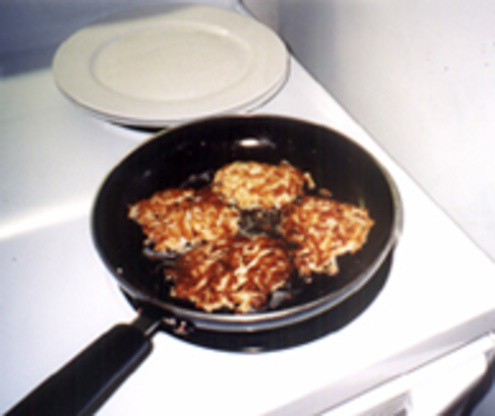 Makes a great side dish for any meal. To make it easier, use unseasoned prepared hash browns from the refrigerator section of your grocery. Cook time is approximate per batch.

I'm pregnant with my first and having been craving potatoes in all forms this week. Hubby made these for dinner tonight and they really hit the spot. Perfectly crispy on the outside and soft and moist on the inside. The cayenne pepper added just the right amount of kick and flavor. We didn't change a thing and will definitely make them again! Thanks! :)
Place potatoes between paper towels to squeeze out excess moisture.
Combine all ingredients except oil and mix well.
Heat 1/8" of oil in a large skillet and drop mixture 1/4 cup at a time into hot oil.
Press mixture into 3" rounds with the back of a spoon.
Fry until golden brown, turning once.
Drain on paper towels.