Megsymop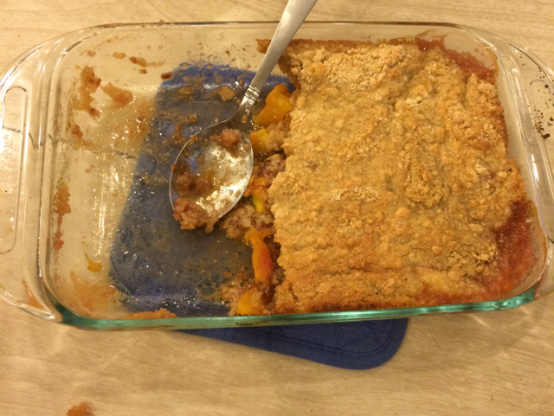 In a word-EXCELLENT. This is a first class dessert. The crust is chewy at the edges. I baked it for 42 minutes. I used 6 peeled peaches and a 2 1/2 quart casserole. I will certainly make this again. It is very very tasty, as well as being easy to make. Thanks Inez.
Heat oven to 375*.
Put peach slices in greased, shallow 11x7 baking dish.
Mix brown sugar, flour, lemon juice, peel, and cinnamon.
Sprinkle over the peaches.
Mix flour, sugar, baking powder, salt, and nutmeg.
Stir in egg until mixture is coarse crumbs.
Sprinkle over peaches.
Drizzle butter evenly over topping.
Bake for 38 minutes.