Boomette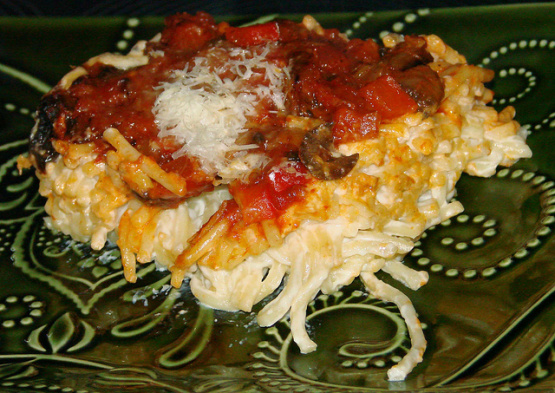 The cream gives this dish a really rich boost.
This recipe is full of different flavors that go perfectly together. I used red bell peppers, 1 medium onion, didn't measure ;) I used a package of 8 ounces of fresh mushrooms that I sliced and added at the same time of the bell peppers and onions. This is comfort food to me which was perfect for a rainy Sunday. Thanks Gailanng :) Made for the Australian Recipe swap for May 2011
Cook the spaghetti according to package directions; drain.
In a skillet, cook green peppers and onions in the 2 tablespoons butter until tender. Stir in undrained tomatoes and bring to boiling. Reduce heat and simmer, uncovered, for 15 minutes. Stir in the mushrooms and olives.
Meanwhile, for white sauce, in a medium saucepan, melt the 1 tablespoon butter. Stir in flour and salt. Add the whipping cream and milk all at once. Cook and stir until thickened and bubbly. Remove from heat.
To assemble, arrange spaghetti in an 8x8x2-inch baking dish. Top with white sauce, followed by the tomato-mushroom sauce. Sprinkle with Parmesan cheese.
Bake, uncovered, in a 350 degree F oven for about 25 minutes or until heated through.