Nimz1466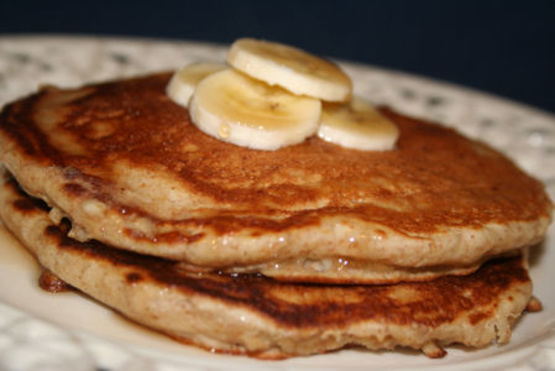 This is my redux for my favorite Banana Pancake recipe, reducing the fat and adding fiber where I could without sacrificing the taste since I'm trying to eat healthier. They're really good and very filling. This recipe makes a LOT of pancakes.

I thought these were really good pancakes. I made half the recipe using 2 egg whites. I made everything else as directed and they turned out light and fluffy. Well I did use splenda for the sugar. They were easy to put together Added a little sugar free maple syrup and a few slices of banana. Thanks for sharing. Made for PAC Fall 08
In a bowl beat the egg whites until frothy, then mix in bananas, applesauce, and buttermilk. Set aside.
In a large mixing bowl stir together the dry ingredients, then add the banana mixture. Beat together until everything is well incorporated. (You can add more buttermilk if you feel the batter is too thick.).
Pour 1/4 cup batter for each pancake onto a preheated griddle. Flip over when the edges begin to dry and the batter bubbles on top.
Serve with sliced bananas and/or warm maple syrup.