PaulaG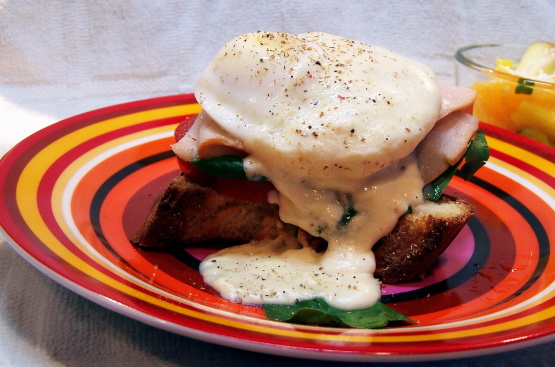 This version of the popular eggs benedict has been adapted to the microwave oven and is more healthful than the original versions.
Top Review by PaulaG
This is a lower fat alternative to regular eggs benedict and is truly wonderful. I used French bread which was lightly toasted and baby spinach. I think that next time I make these; I will wilt the spinach leaves before using. A word of caution, when cooking the eggs, I would suggest that care be taken on the timing. I divided the recipe in half and cooked the eggs in individual custard cups. After 45 minutes they were set and were cooked perfect after standing a few minutes in the hot water. Food continues to cook after removing from the microwave.
for eggs, place water in a 1 quart microwave-safe casserole.
Microwave, uncovered, on high for 2 or 3 minutes or until boiling.
Gently break eggs into water. Prick each yold and white. Cover with waxed paper; cook on high for 2 minutes. Let eggs stand, covered, while preparing sauce.
For sauce, in a 1 quart microwave-safe bowl, stir together yogurt, mayonnaise dressing, cornstarch, mustard, and red pepper; stir in milk.
Cook uncovered, on hight for 2 or 3 minutes or until slightly thickened and bubbly, stirring after every minute.
Season to taste with salt and pepper. cover; set aside.
Arrange bread slices or muffin halves on a large microwave-safe plate.
Top each with one slice of tomato, 3 spinich leaves, and 1/4 of the turkey.
With a slotted spoon, remove eggs from water; place on top of the turkey slices.
Spoon some sauce over each serving.
Cook, uncovered, on high, for 1 or 2 minutes or just until heated through.