Filipino Style Chicken Soup With Mung Beans, Garlic and Bay Leav
rocky821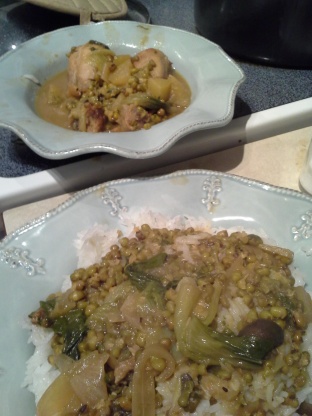 I don't recall my Mama ever making such a thing, and I definitely can't vouch for how authentic this recipe is, but it does speak to my Filipina tastebuds and will be made in my kitchen soon! :) From the food blog Coffee and Vanilla, very slightly adapted to reflect personal preference.
Place chicken, onions, bay leaves, garlic if fresh used and oil in a pot and saute until onions and chicken are golden brown. Add the rest of ingredients and cook covered on low heat about an hour, until chicken, mung and potatoes are ready.
Add some more water if soup is too thick.
Serve with rice topped with chilli sauce on a side.