Feta, Olive and Tomato Dip
flower7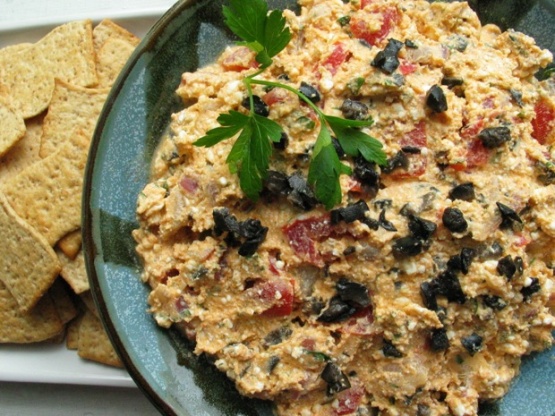 Use a feta that is not too salty, there can be quite a difference in flavor when you buy feta cheese. You can substitute the fresh tomatoes for sun-dried if you like a more pungent flavor, but use less and taste it before you add more. Add several tablespoons of milk to turn the dip into a dressing. Also very good to spread on a sandwich and top it with tomato and cucumber slices.

Top Review by Bergy
Great recipe - I used it as a dip and it went over very well - served with corn tortilla chips.. I whipped the cottage cheese, feta and the herbs. Used a local Feta cheese "Gorts" excellent cheese. As suggested I added 1 sundried tomatoe, did not decrease fresh tomatoes (I used Roma tomatoes) and whipped the sundried separately and mixed in with the tomatoe etc. Thanks Petsrus for a great recipe
Put the first eight ingredients in the food processor and mix, transfer to a bowl and add the olive oil, tomatoes, onion and olives.
Add the lemon juice, put in the fridge for at least one hour, serve with melba toast, crackers or pita bread strips.