Family's Favorite Flounder
Hey Jude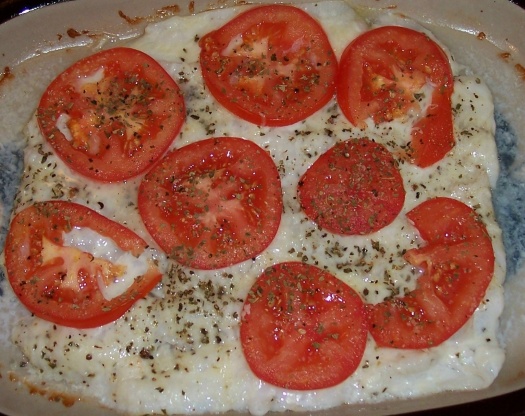 Delicious baked fish that the whole family enjoys. We like it with noodles and frozen veggies. Recipe source:Bon Appetit (July 1980)

This was soooo EASY!! DH said it looked like pizza...LOL! I love tomatoes so I added extra, sliced very thin!! Those mixed with the flavor of the flounder, mozzarella and oregano...mmmmm...very tasty. I will definitely be making this again!
Preheat oven to 375-degrees F.
Spray a large baking dish with Pam or grease pan.
Arrange fish in a single layer in prepared baking dish and then sprinkle with cheese and place sliced tomatoes over the cheese.
Sprinkle all with oregano, garlic salt and pepper.
Bake for 10-20 minutes (depending on the thickness of fish).