Elk Steaks with Green Peppercorn Sauce
NateDogg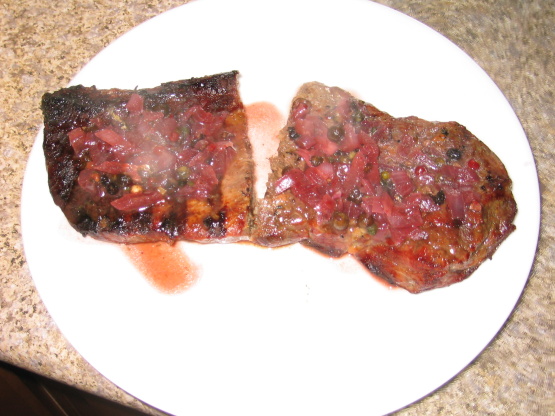 Elk is perhaps the finest of all the venison meats. It is very fine grained and mild flavoured, almost like beef. Like all wild venison, it is very lean so it benefits from larding, barding and marinading. With that in mind, you can treat it like beef. Steaks are best grilled, cooked rare or at most medium rare. Well done meat will be tough due to the lack of fat.

very nice sauce for venison, I would cut the balsamic in half though, as the brand I used was pretty sweet. It would be just as good without the peppercorns if you are out. Thanks for posting so long ago! This will definitely be a keeper as we eat a lot of venison.
4

elk steaks (1)

2

cloves garlic, minced

2

tablespoons vegetable oil
salt & pepper

GREEN PEPPERCORN SAUCE:

1

teaspoon butter

1

teaspoon vegetable oil
1⁄2 small red onion, finely diced
1⁄4 cup balsamic vinegar

1

cup red wine

1

cup beef stock

2

tablespoons grainy mustard
1⁄4 cup green peppercorn, rinsed
salt & pepper
Trim any visible fat from the steaks.
Combine the garlic and oil.
Pour over steaks and marinate, refrigerated, overnight. Season the steaks with salt and freshly ground pepper.
Grill or broil about five-six minutes per side, depending on the heat level of the grill.
Stop while the steak is still quite rare. Set aside on a heated platter in a low oven until the sauce is ready.
GREEN PEPPERCORN SAUCE: In a small saucepan, melt the butter in the oil over high heat until hot but not smoking.
Add onion, and saute, stirring, until tender, about 30 sec. Add vinegar and wine, and cook, scraping bottom of pan to dissolve residue, until reduced by about half, 2 to 3 min.
Add stock and mustard, and cook, stirring frequently, until reduced by about half, 4 to 6 min.
Remove from heat, stir in peppercorns and correct sea soning.
Drizzle sauce over steaks.
Serve at once.