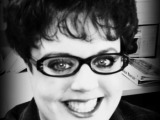 My husband had this at work several years ago. He liked it so much that he got the recipe and stopped at the store on the way home to get the ingredients. He made it for us and that was our supper that night! It's been a favorite in our house ever since.
Directions
Mix sour cream and taco seasoning.
Add the olives, cheeses, tomato and onion.
Serve with tortilla chips.
Reviews
Most Helpful
Really great flavor. I liked the addition of the green olives, but DH wasn't a fan. I think I'll just use black olives next time to so he'll love it too. Thanks for sharing the recipe.

I made this on the fly because I had all the ingredients. I admit that I didn't think it would be as good as it was; I was pleasantly surprised. I made this as written (I used light sour cream), and I used a mixture of green and black olives. The ending result was not only tasty but the texture was nice and thick, which I didn't expect since there was no mayo or cream cheese. The shredded cheese seemed to sort of hold everything together. What a great tex/mex sort of dip for tortilla chips! Loved it. Thanx!

I would give this 5 stars if I were the only one eating this but the rest of my family didn't like the green olives in it but liked the overall flavor of the dip. Thanks Veronica. Bullwinkle.