lazyme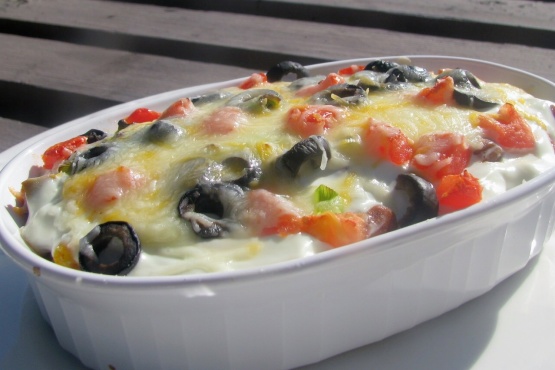 This is based on a recipe from the Allrecipes website submitted by AndreaLF63, which I made a few minor changes to suit our taste preferences such as adding a can of white corn and using canned diced tomatoes instead of fresh chopped tomatoes. But I look forward to making this again and trying some of the other changes that some of the reviewers suggested, like maybe adding some minced garlic or perhaps a diced jalapeno pepper or chopped bell pepper.
Great dish! Made only a few changes. While I browned the meat, I added 1 tsp salt, and a half tsp each of garlic powder, onion powder, cumin, and chili powder. Also I used 3 cups of crushed chips, doubling the recipe amount. With those changes I will def make this again and again.
Preheat oven to 350°F (175°C). Spray a 9x13 baking dish with nonstick cooking spray; set aside.
In a large skillet over medium-high heat, cook ground beef until no longer pink. Stir in salsa, reduce heat, and simmer 20 minutes, or until liquid is absorbed. Stir in beans and corn, and cook just until heated through.
Spread crushed tortilla chips in bottom of prepared baking dish, and then spoon beef mixture over chips. Spread sour cream over the beef layer, and then sprinkle olives, green onion, and tomato over the sour cream layer.
Bake in preheated 350° oven for 25 to 30 minutes. Top with cheddar cheese and return to oven to bake another 5 minutes or just until the cheese starts to melt.