tcourto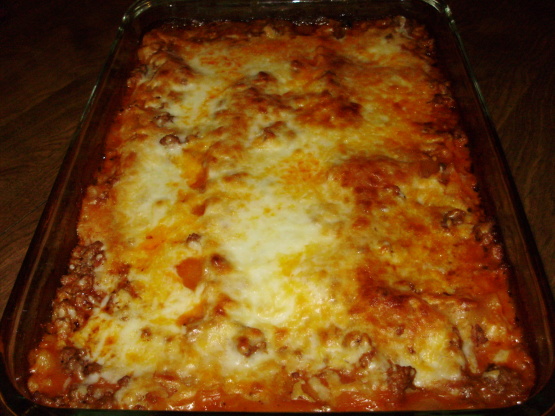 This is an old family favorite. It does not call for cottage cheese! And oh so good! <><
This was very tasty, although it isn't enough sauce to make a complete lasagna. My family really liked the sauce, it's light and not too spicy. I would make this again but I'd double the liquids. This sauce would also be great on a pizza.Thank you.
Cook lasagna noodles as directed and set aside.
Brown beef, onion, garlic and oregano in medium skillet. Drain.
Return beef to skillet. Add soups, water and vinegar.
Simmer for 20 minutes stirring now and then.
In a 9X13X2 baking dish arrange a layer of noodles, meatsauce and mozzarella.
Repeat layers 2 more times then top with parmesan cheese.
Bake at 350 for 30 minutes. Let stand 15 minutes before serving.