teresas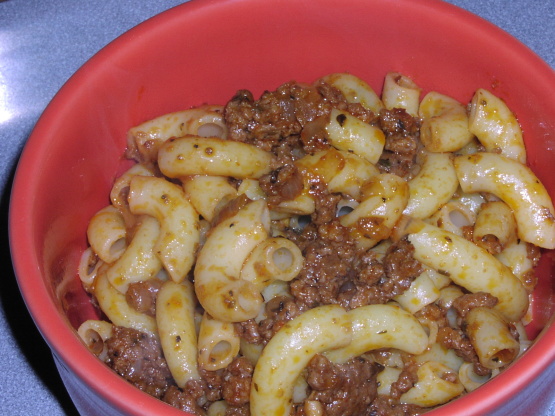 This is not the traditional Hungarian recipe by any stretch of the imagination. My mother "threw this together" back in the late 1960s and named it goulash, when she was a young bride and money was very tight. I took her "recipe" and altered it to my own taste, mainly by adding spices. The last time I prepared this dish I made measurements, so I could share this tasty concoction with you. I serve this with a side green salad, garlic toast, and plenty of grated parmesan cheese on top. Note: Without the noodles, this recipe makes a great stir-in to your favorite canned spaghetti sauce!
Place ground beef and onion into large pan and season with spices, herbs, salt, and pepper. Cook until beef is done but not browned. (If the beef is very lean, you may need a bit of oil to get things started).
Add brown sugar, vinegar, ketchup, and mustard to the cooked beef mixture. Stir until all is very well blended. Reduce heat to simmer.
While beef mixture is simmering, prepare the noodles or macaroni according to package instructions.
When noodles are done, drain them and add them to the pan with the beef mixture. Mix everything very well and serve immediately.