teresas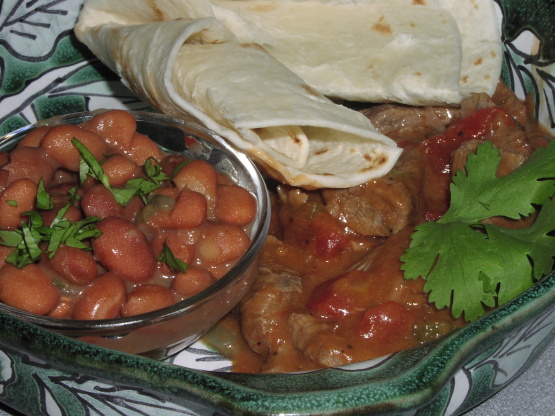 This is one of my favorite Mexican dishes. This recipe is from a small town church cookbook I received as a wedding present 26 years ago. Posted here for safekeeping. Recipe is credited to Laverne McKoy. You'll find this dish goes together quickly and is very simple. I've made it in a crock pot, on the stove or in the oven. Just adjust the cooking times for your situation. The traditional way to serve this is as a stew with warm flour tortillas on the side. We usually spoon it into the tortilla and eat as a taco with cheese and sour cream.

Excellent flavors! The meat come out so tender it melts in your mouth. I cut the recipe down to 1 1/2 servings and it was plenty to feed two people. I served it with spanish rice, tortilla's and recipe #178879 El Pollo Loco Mexican Beans. Yummy! To spice it up a bit I added in about a tablespoon of jalapeno juice although I did use fresh in the recipe. Next time I plan to make more and have some leftover to use in burritos. Thanks for posting. Made for Spring PAC 2011
Brown meat and onions together.
Add small amount of oil if needed.
Add flour and stir well.
Add tomatoes and water.
Stir and add spices and peppers.
Salt and pepper to taste.
Let simmer several hours until meat is tender and has a thick sauce.