Dhall (Lentil & Tomato Curry)
day-hee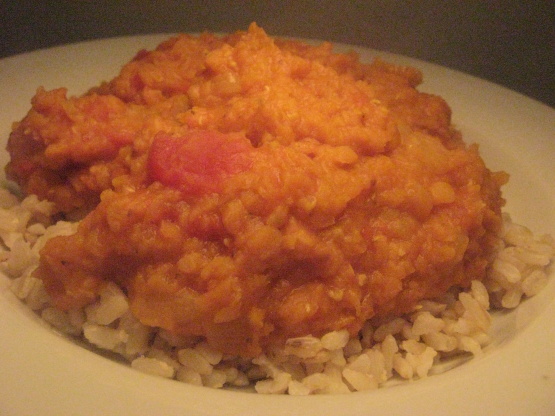 Australian Woman's Weekly Dinner Party Cookbook.

Extremely easy to make. Very good taste. Served it over rice with a green salad as sidedish. One thing I did different was that I did not blend it. Split up the tomatoes while it was cooking and wanted some structure to it, therefore omitting blending. Will certainly make again. Thanks for posting.
Combine in pan lentils, salt, curry powder, undrained chopped tomatoes, onion and water.
Bring to boil, reduce heat, cover, simmer 50-60 minutes, or until lentils are tender.
Pour half the mixture into blender, blend on medium speed 30 seconds, repeat with the rest of the curry, stir in garlic & oil.