Delicious Twice-Baked Potatoes
PaulaG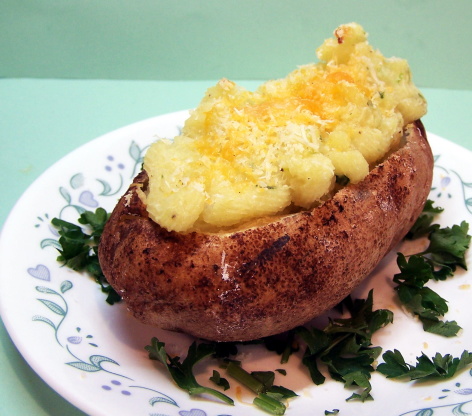 I make these often, they are very good, and the ingredients can easily be doubled for more potatoes, when I make these I always double the recipe, what I don't use I just freeze them on a tray, I just defrost in the fridge overnight and pop them in the oven when I am ready to use them, they freeze well. I have also added in some finely chopped cooked bacon to the potato mixture.

Sensational! I made these for my oldest son's 8th birthday. He was thrilled with them! The only changes I made were to leave out the scallion because I didn't have any, but I did add the cooked bacon in as suggested. Thank you for another incredible restaurant quality dish!
Set oven to 350 degrees.
Grease a baking sheet.
Bake the potatoes for about 1 hour, or until soft; cool slightly.
Cut off the tops of the potatoes, spoon out the pulp, discard the tops.
Scoop out the pulp from the potatoes, leaving about 1/4-inch of potato around the skin.
Place the pulp in a mixing bowl.
In a saucepan (or the microwave) combine milk and butter, heat just until the butter has melted and the milk is warm.
Pour the milk/butter mixture over the potato pulp; beat until very smooth (I use a stand mixer for this).
Add in egg and 1/4 cup grated Parmesan cheese, chopped green onions and a pinch of nutmeg; mix well to combine, season with salt and pepper.
Stuff the potato shells with the mixture.
Sprinkle about 3 tablespoons grated Parmesan cheese on top.
Place the potatoes on a well greased baking sheet.
Bake for 15 minutes, then remove from oven, sprinkle with cheddar cheese and place back in the oven for 5-7 minutes, or until the cheese has melted.
*NOTE* use only 1 egg for a doubled recipe, do not use 2 eggs.
Delicious!