Annacia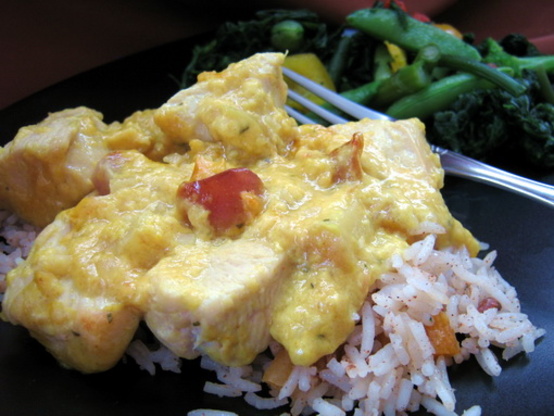 "I Hate To Cook Book" is a delightful, funny and curious cookbook, copyrighted 1960 and was a girl's best friend. For the women who did it all, and was not predisposed to "liking" cooking to boot. This "Sunday Chicken" adaption is absolutely a lifesaver, for all of us, even now, in todays world. Just takes *chicken* and a couple other ingredients. Please give this your seal of approval--and most of all, *enjoy*.
Preheat oven to 350 degrees.
Spray baking dish with cooking spray.
Heat oil, (and butter if using) in a small skillet.
*Optional step*~I brown the chicken in this skillet first, on each side.
Remove chicken if browning and put in baking dish.
Or if you didn't brown chicken, just place salt and peppered chicken pieces in baking dish.
Add onion and apple, cook until soft over med/high heat.
Add garlic, cooking for 30 seconds.
Add curry powder, salt, and pepper.
Add soup and half and half, and cook until heated.
Ladle sauce over chicken, covering chicken.
Place in oven, bake, uncovered~for 1 hour, or until completely done. Chicken temp should be 160 degrees internally.