The Solution to Canned Spinach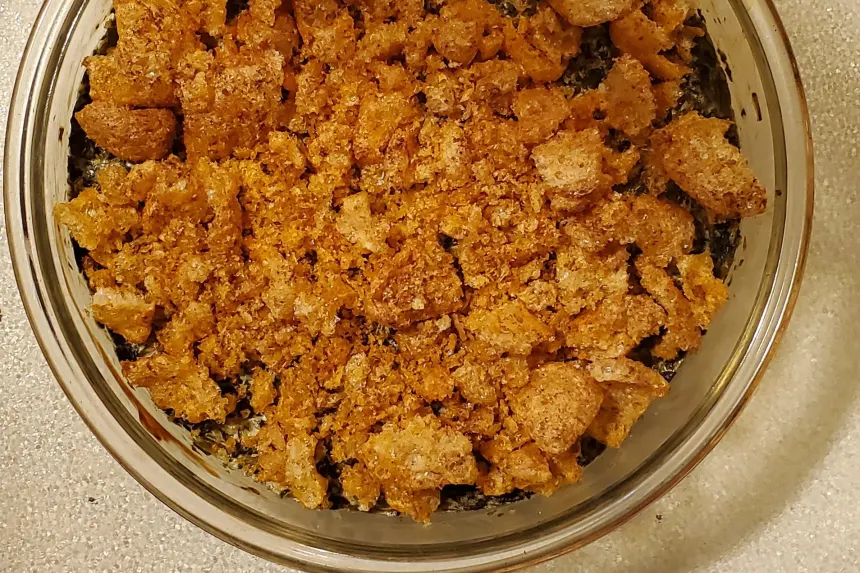 photo by Trent A. J.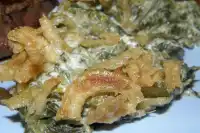 Ready In:

35mins

Ingredients:

3
directions
Mix well drained spinach (really squeeze liquid out) and sour cream.
Bake about 30 minutes at 325F or with roast anything at the temperature your oven is on or microwave until hot.
Top with fried onions to serve.
Reviews
This was waaaaaaaay too simple to be so good! Sour cream is one of my favorite comfort foods. Fried onions are also up there at the top of the list. It seems that I've been a little too much into comfort foods over the past few years and I'm now on a low carb diet to get back to my pre-overdoing-it states. This recipe is just perfect, it fits my comfort food needs and is still legal for me to eat! I used 2 pounds of fresh spinach, wilted in the microwave. Then I added the sour cream, and a healthy dose of paprika and a little hot sauce. I fried my own onions until golden and crisp, and had this together with Ginny P's cauliflower. Leftovers for lunch today, and I can hardly wait!

 

Well, who would ever imagine that you can dress up canned spinach? This recipe was really delicious and almost too easy to prepare. The sour cream and onions are a great combination to add to the spinach. I drained the spinach well before adding the sour cream so the finished dish wouldn't become too watery. Thanks for sharing this excellent keeper.

 

I thought it was fantastic! I was given a can of spinach from a friend who was moving/cleaning out their pantry. I was going to toss it -- but I found this recipe and I'm so glad I didn't throw the can away! Thanks to Crawford H's suggestion, I used spicy pork rinds to top it off for the last 10 minutes of baking time. The next time I make it I might throw in a dash of spices, but it definitely wasn't disappointing as is. This was super-easy to make and a surprisingly good dish! Thank You!

 
RECIPE SUBMITTED BY
I've been cooking for over 45 years now. First I made Jello pudding. Next I learned how to make cream sauce. I still like creamed tuna over toast, rice or mashed potatoes. Many years ago I found a greeting card that said "When I retire I'm going to move to a big house in the country and live with a lot of cats...I've already got a start on the cats." I bought the store's entire stock and sent them to EVERYBODY! Well, now I'm retired, I live in a regular sized house in the country (on about 80 acres), I have a bunch of cats and feed a lot of other critters. There's a mini pig (she's still pretty big),a lop-eared rabbit, a vole who moved in under the stove, a huge flock of chickens, loads of songbirds, an opossum behind the barn(who sneaks in to eat), herons in the spring, pacific tree frogs, and the occasional coyote. We're even in the territory of a couple of golden eagles who stop by a couple of times a year. That's a chicken on my shoulder. JC (Junior Chicken). How he ended up as an indoor chicken is a long, complicated story. JC never learned to crow right. Maybe it was being deprived of role models in his formative months.
View Full Profile