Crostini With Mushrooms, Prosciutto, and Bleu Cheese
Kim127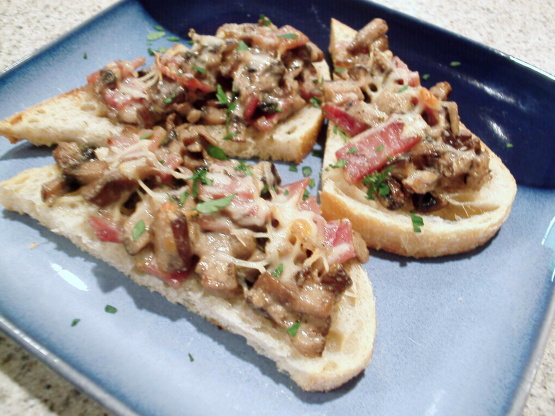 This is a great appetizer! Everyone loves these!I am always asked for the recipe. It will definitely be a hit at your next party. The topping can be made a day ahead. This is from Bon Appetit 2002.

Top Review by Kim127
Delicious!!!!!!! We loved these. Made these as a snack before dinner but we liked it so much I heated up the rest and we ate them for dinner. I used 8 oz of cremini mushrooms and 4 oz of shiitake (those were the size packages I could find). I am not a huge fan of bleu cheese so I only used 1/4 cup and added 1/4 cup of fresh grated parmesan. So good!!!!
3

tablespoons butter
1⁄2 lb fresh shiitake mushroom, stemmed, caps chopped

4

ounces cremini mushrooms, chopped

2

garlic cloves, minced
1⁄2 cup whipping cream
1⁄2 cup crumbled blue cheese (about 2 ounces)
1⁄2 cup chopped thinly sliced prosciutto (about 2 1/2 ounces)

18

slices sourdough bread (1/2 inches thick, diagonally sliced)
chopped parsley
Melt butter in a heavy large skillet over medium high hear. Add all mushrooms and garlic and sauteed until mushrooms are cooked through and brown, about 10 minutes.
Add cream and boil until liquid is completely absorbed, about 2 minutes.
Remove from heat. Add bleu cheese and stir until cheese melts.
Mix in proscuitto. Season with salt and pepper. Transfer to a bowl. (Mushroom topping can be made 1 day ahead. Cover and refrigerate. If you make this the day before make sure to bring the topping mixture to room temperature so it is easy to work with.).
Preheat oven to 375 degrees. Arrange bread slices on baking sheet. Bake until just golden, about 5 minutes.
Mound 1 generous tablespoon mushroom topping on each slice of bread. Return to oven and bake until heated through, about 6 minutes.
Sprinkle with chopped parsley.