VickyJ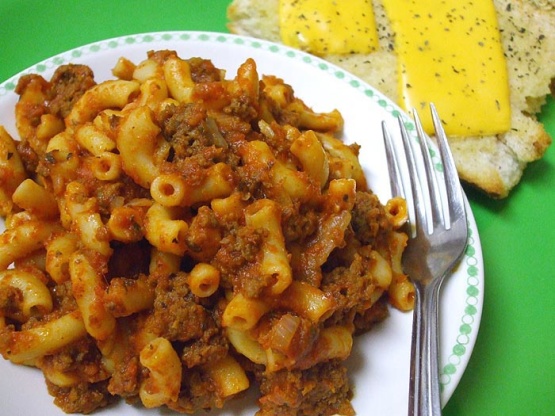 Seems like everyone in the Midwest has a recipe for goulash that has nothing to do with the Hungarian kind. This was my mom's recipe, which I adapted for the crock pot after living in a apartment with an unruly oven that would set off the smoke alarm no matter how often I cleaned it. This is a very simple recipe, but it's my brother's favorite meal in the world (thus I make it for him every Christmas Eve). Good with garlic-cheese bread.
Cook pasta according to package directions. Drain.
Brown meat. Drain.
Combine meat, pasta, spaghetti sauce, onion powder and mushrooms(if using) in crock pot. Mix well.
Cover. Cook on High for 1 hour.
Reduce heat to Low for 30 minutes.
Serve with Parmesan cheese.