Creamy Beef and Pasta Casserole With Spinach
Parsley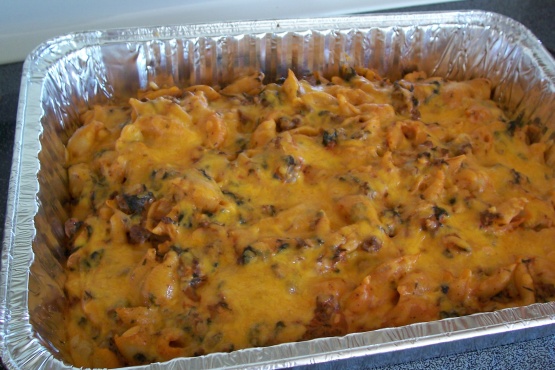 I created this casserole while trying to use up some ingredients I had. It came out sooooo good. Sometimes I had some green pepper and/or mushrooms. It's a regular favorite!

Parsley you did good! We enjoy these types of casseroles and yours was very tasty. I used ground round, had elbow macaroni on hand, and leftover Recipe #265309 by Tiny Toodles. This one is a keeper, thank you hon for posting!
Brown ground beef in a skillet with onion and garlic. Drain.
While beef is browning, prepare pasta in a large pot according to package directions. Drain pasta and set aside.
Return empty pasta pot to stove and over med-low heat, stir together tomato sauce and cream cheese until cream cheese is melted and mixture is smooth.
Reduce heat to low. Add 1 cup of the cheddar cheese; stir well. Add thyme, oregano, basil, salt and pepper. Stir well.
Add drained pasta, drained browned beef mixture and drained spinach to pot. Gently stir to combine and coat well.
Pour into a 13 x 9" baking dish or similar size casserole dish. Sprinkle with remaining 1 cup cheddar cheese.
Bake at 350 for 25-30 minutes or until cheese is melted and starting to slightly brown.