Creamed Cabbage Casserole
Parsley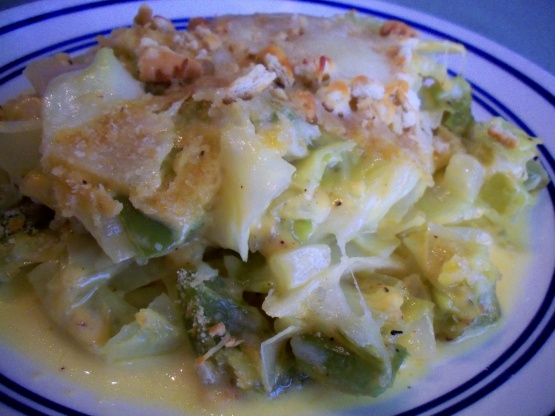 About 25 years ago a neighbor brought this to a potluck. It was the most talked about and surprise of a dish. Can divide and freeze before baking.

This was a very tasty dish. Made it to accompany Recipe #424661. They both went into the oven at the same time, and I was rewarded with a heart warming meal. As *Parsley* suggested, I used just 1 cup of evap milk. Thnx for sharing your recipe, gailanng. Made for the Voracious Vagabonds for ZWT6.
Preheat oven 350 degrees.
Butter casserole dish.
In large sauce pan, boil shredded cabbage until tender, covered with lid, in just enough water to cover. Drain well and squeeze tightly to release excess moisture. Cabbage should be relatively dry; set aside.
In large sauce pan, melt butter; add onion, bell pepper and garlic. Saute until tender and onions become transparent; remove from heat.
Add to hot vegetable mixture the cheese; stirring to melt.
Next add the evaporated milk, reserved cabbage, salt, pepper, Worcestershire sauce, and Tabasco, stirring to encorporate all; pour into prepared pan.
Sprinkle over top the breadcrumbs, then parmesan cheese.
Bake in preheated oven about 25-30 minutes, until heated through and bubbly.