This is my mother-inlaws meatballs. We have them at every family gathering and my husband begs for them at home for a special treat, and will even call his mom just to make sure she is making them before we go over to their house! I hope you enjoy this simple but yummy concoction!
Directions
In a small saucepan or microwave slowly melt the cranberry sauce until it is very smooth. (Microwave normally takes about 2 min on %50 stirring every 45 seconds)
Mix in chile sauce, brown sugar and lemon juice and stir until well blended.
Mix with your meatballs and place in Crockpot on low for about 2hours.
Reviews
Most Helpful
I served as an appetizer.. Great flavor and so easy to make, just kept warm in a crockpot. Thanks for sharing!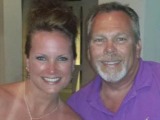 This is definitely a 5 star recipe. I made this for "New Kids on the Block" tag game. The sauce was sweet, but not too sweet. My husband and I both really liked it and will make it again. Thank you so much for this recipe. I know my pics are bad, but believe me, it was really good with mashed potatoes. Thank you so much!