Tailgate Meatballs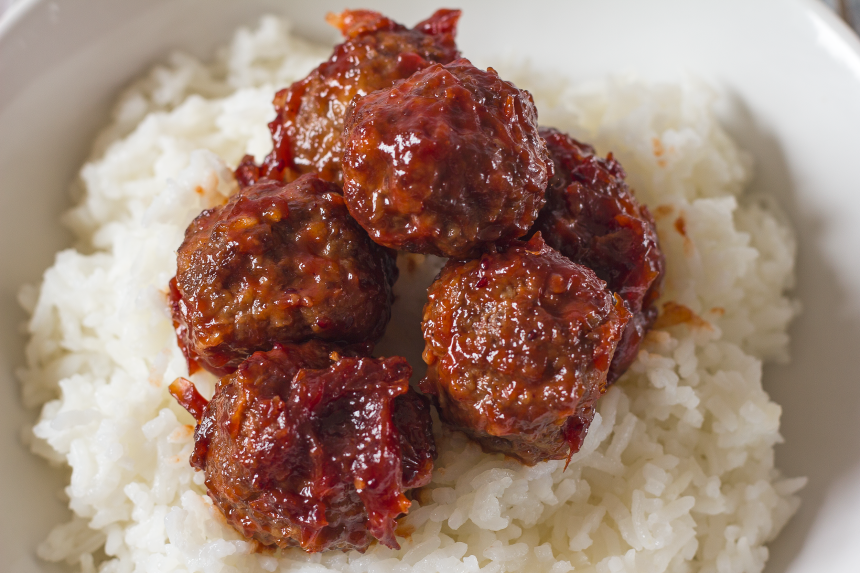 photo by anniesnomsblog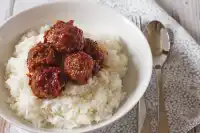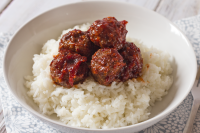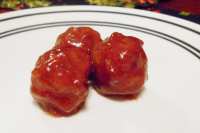 Ready In:

1hr 50mins

Ingredients:

9
directions
Preheat oven to 350*F. (175*C).
In a large bowl, mix together the ground beef, egg, water, bread crumbs, and minced onion. Roll into small meatballs.
Bake in preheated oven for 20 to 25 minutes, turning once.
In a slow cooker or large saucepan over low heat, blend the cranberry sauce, chili sauce, brown sugar, and lemon juice. Add meatballs, and simmer for 1 hour before serving.
My Update Note: I have been making these meatballs for 30 years or more. I however use cornflakes crumbs instead of bread crumbs. I also put 1/3 cup parsley; I use 1/4 cup ketchup instead of water and 1 teaspoons soy sauce. Just a thought from an old chef.
Sometime I used frozen meatballs. Most jellied cranberry sauce come in 16 oz cans so if you decide to use the whole can you'll need to double all the other ingredients. Typical chili sauce comes in 12oz. bottle so you'll need two bottles if you use the full can of cranberry. Hope this helps your shopping.
I have made these numerous times and am ashamed to admit I'm just now reviewing them. Wonderful addition to the regular grape jelly recipes out there with great meatballs -- Based on experience and personal preference with these cocktail meatballs I offer the following suggestions: 1.) Add one packet of Lipton onion soup mix to the meatball mixture if you do not have time to mince or grate the onion. 2.) Bake meatballs over a drip pan to reduce the fat before adding to the sauce. 3.) If using frozen meatballs ENSURE you DO NOT use Italian meatballs as this upsets the balance of the meatballs and sauce (yuck)! 3.) Make the sauce the day before to let the flavors marry - I can't stress what a difference this makes! This recipe gets better the next day. 4.) The Heinz sauce in the round bottle seems to be the best chili sauce for this mixture. Reviewers: I seriously dislike people that rate a recipe based on the changes they have made to the original. I want to state that I rated this recipe on the recipe Lara submitted. The changes I suggested were based on my family's personal preference.
Reviews
I made these this morning, and took them to DIL's for our grandsons 2nd birthday party / adult football party. Everyone was expecting "my" meatballs, but I made CHEF GRPA's instead. Most everyone enjoyed them. These were tasty and would have been quite easy to make, but once I started reading all the changes in the directions, it was screwing me up. So I made them per the original instructions. Thank you for posting. (Made for PRMR)