Cranberry-Almond Pound Cake
ChrisF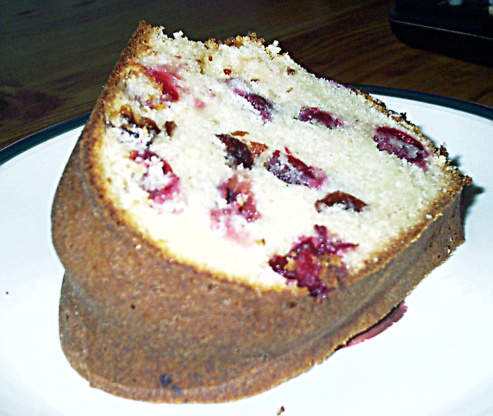 This recipe, from USA Today, was a real find! The cake wasn't quite as dense as I imagined it might be, considering it's a pound cake. The cake is so delicious it doesn't necessarily need a sugary frosting that might cover up the flavors.
Top Review by ChrisF
Very good! Love the not too sweet cake and the tartness of the cranberries. It is moist too! I used my food processor to combine the almond paste/almond extract and sugar in step 5, pulsing it to the consistancy of sand. I did find 425 degrees a bit high and only baked it for 50 minutes, so be carefull, it could be my oven is running a bit on the hot side. I will make this again, its a keeper!
A couple hours before baking, heat the water to a boil, remove from heat and add dried cranberries to soak up all of the liquid.
Preheat the oven to 425 degrees F.
Grease and flour a 10-inch bundt pan or two 9-inch round cake pans.
Stir the flour, salt, baking powder and baking soda together and set aside.
In a large mixing bowl, combine almond paste, almond extract, and sugar until it resembles wet sand.
Add the butter and beat with an electic mixer until fluffy or about 3 minutes.
Add the eggs individually, beating them in after each addition.
Add the dry ingredients gradually, alternating with the sour cream.
Beat 20 seconds and then gently fold all of the cranberries into the batter.
Pour the batter into the prepared pan (s) and bake for 50-60 minutes, or until a toothpick inserted in the center comes out clean.
If desired, drizzle a light glaze of confectioners' sugar and milk over the cake and garnish with slivered almonds.