gertc96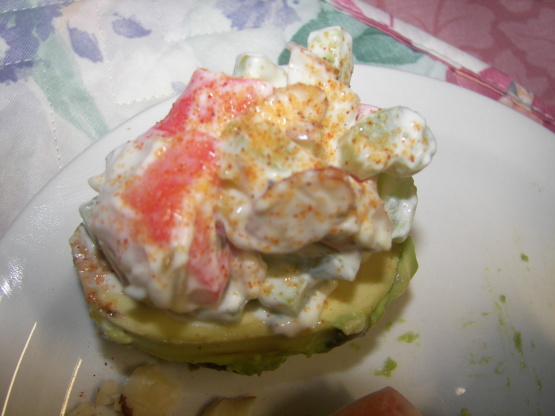 This is great for a light lunch. Cook time is the time it takes to drain crabmeat.

These were so good.... I had them for a late night snack and had enough crab left over for crackers the next day for lunch.... I love the added flavor of the avocados added with the crab... This is a keeper and will be enjoyed many more times.... Thanks so much for sharing...
Place the crabmeat in a paper towel-lined bowl.
Allow to stand for 15 minutes.
Remove paper towel.
Mix mayonnaise, lemon pepper, celery, pickle relish and toasted almonds together.
Gently toss with crabmeat.
Slice avocado in 2 around the seed.
Split and remove seed and discard.
If desired, put a little lemon juice on the avocado before filling. Fill seed hole and tops of avocado with crab mixture sprinkle with a little paprika, and serve immediately on a green bed of lettuce.