Crab Cakes - Lightened Up
Sageca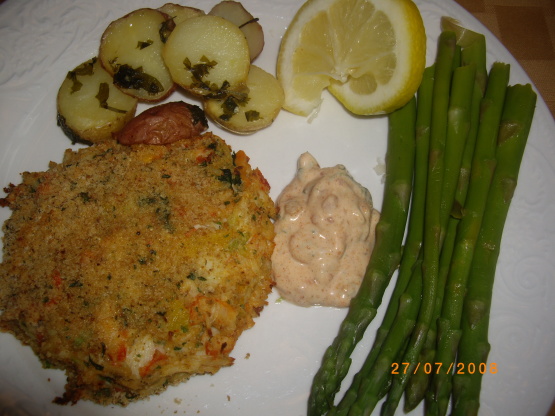 From my local paper, these are a great way to enjoy this favorite without straying from your healthful eating plan.

My husband & I really enjoyed these, I did make a few changes, I didn't have the lighter version of anything, I used fresh chives from my herb garden instead of green onions, and 1 egg instead of egg substitute. I also didn't have time to wait an hour for the cakes to sit in the muffin tins so I just cooked them in the skillet & I also used plain bredcrumbs instead of panko (i've never been able to find panko around here). The sauce I kept the same, It was very delicious!!! We would make again - I believe the sauce makes this company worthy! Made & enjoyed for ZWT5.
To make dipping sauce: Combine all the ingredients in a small bowl. Cover and chill until you serve the crab cakes.
To make crab cakes: Put the first seven ingredients into a large bowl and blend together with a whisk. Gently fold in the crab meat and plain bread crumbs. In a non-stick standard-size muffin tin, lightly coat eight muffin cups with cooking spray, then fill the cups with equal amounts of the crab misture. Press down lightly on each crab cake so that the top is flat. (Don't press too hard or they may be hard to get out.) Cover the muffin tin with plastic wrap and refrigerate for about an hour. After an hour, try to take one of the crab cakes out of the tin. It if doesn't stay together firmly, put the muffin tin in the freezer for about 10 minutes.
Once the crab cakes are thoroughly chilled, preheat the oven to 400 degrees. fill a shallow dish with the panko bread crumbs. After removing each crab cake from the muffin tin, gently roll it in the panko until the whole crab cake has a light coating.
Lightly coat a non-stick baking sheet with cooking spray, then place each crab cake on the sheet. Lightly coat the top of each crab cake with cooking spray. Bake for 12 - 15 minutes or until the coating is crispy and lightly browned. Serve immediately with the dipping sauce.