Kathy228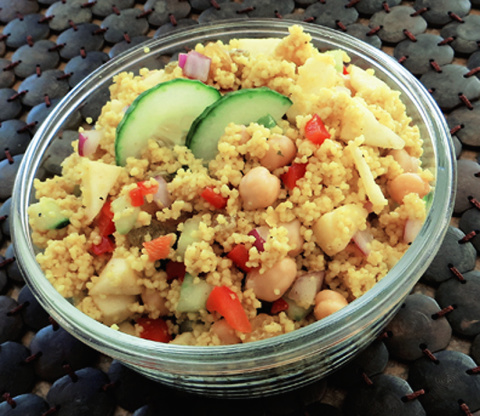 This is a Recipezaar 2005 adoptee. It's a healthy, light main dish salad, that can easily be made vegetarian by using the vegetable stock. I omit the raisins as I can't stand them in savory dishes, but my daughter adds them to hers, so I left them in the ingredient list.

Really good directions. Yummy salad. I added a Tbsp. of olive oil, thought it wouldn't be enough, but the next day it came to life, and really tasted great. Amazingly healthy and tasty without much oil! Was a very good lunch entree but it received rave reviews when I served it with grilled chicken.
In a heavy medium saucepan, whisk together the stock, cinnamon,ginger, cumin, and turmeric.
Add the couscous in a slow steady stream, stirring constantly, and continue to boil, stirring, for 1 minute.
Cover the pot tightly, remove from the heat and let stand for 15 minutes.
Fluff the couscous grains with a fork, transfer to a large mixing bowl and let cool.
Then fluff again, rubbing with your fingers to break up any lumps.
Mix the carrot, bell pepper, cucumber, onion, apple, currants and chick peas and toss with the lemon juice. Add to the couscous.
Add salt and pepper to taste. Add desired amount of vinaigrette and stir until well mixed.
Cover and refrigerate for several hours or up to 3 days.
Season with additional salt, pepper, lemon juice, and/or vinaigrette to taste before serving.