Country Captain ( East India Chicken Curry)
Kathy228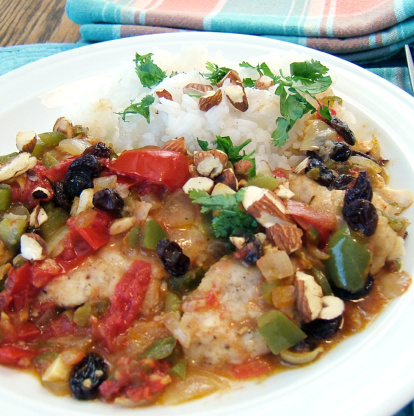 The original recipes comes from an old edition of Joy of Cooking. Over the years I've modified the recipe using only white meat and updating the cooking method. Serve over steamed white or brown rice. This is a recipe that can easily be adjusted to serve two! UPDATE 8/30/07: I've made some further adjustments to this recipe to give it more depth and 'kick it up a notch'. If using the Hot Madras Curry Powder suggest that you taste test after addition of the first teaspoon.

I have to review this, as I have been making it for about 20 years now. I had made very similar changes to the recipe from my father's 1975 copy of Joy of Cooking. I will have to try the Garma Masalas you mention, I have not tried any Indian spice blends or recipes. I made a large batch yesterday, and with the family having it for dinner today. I am using equal amounts of canned diced tomatoes and the version with the zesty green chilies. I look forward to your new spice idea for the next batch. I appreciate you posting your recipe.
In a small food processor (mini-chopper), combine the garlic and ginger and puree to a paste.
Salt & pepper the chicken breast coat them in the flour or bread crumbs.
Heat oil in frying pan or dutch oven and saute chicken to a golden brown.
Remove, drain and place in a casserole.
Saute the onions and green peppers in the pan with the drippings, adding more oil if necessary, stirring, until lightly browned, about 3 minutes.
Add the garlic-ginger paste, bay leaf, curry powder,Garma Masalas, smoked paprika and jalapeno;cook, stirring, until lightly browned and fragrant, about 1 minute.
Add tomatoes and simmer until the pan is deglazed.
Pour sauce over the chicken and bake at 350 degrees for about 35-40 minutes or until chicken breast are tender. (I usually cover for the first 15 minutes and then uncover.).
During the last 5 minutes of cooking add the currants.
Serve over steamed rice garnished with toasted slivered almonds.