Cottage Cheese and Dill [salad] Dressing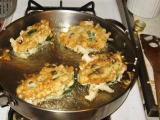 This is an old Frugal Gourmet recipe from the early years. The Frugal Gourmet (Jeff Smith) is no longer with us but his very nice and unique salad dressing lives on. Serve it over multi-green salad when you want to impress someone special with both flavor and eye appeal!
Directions
Blend and refrigerate for at least an hour prior to serving.
Also low-fat/low-salt mayonnaise and cottage cheese can be used. For best results, I recommend Hellman's new olive oil recipe mayonnaise for this particular recipe. It has a much better flavor than their original mayo.
Most Helpful
I recently purchased The Frugal Gourmet at a thrift store and found this wonderful dressing in it. The original recipes lists white wine vinegar or a lemon juice option. I went with the white wine vinegar as indicated, used low fat cottage cheese and low fat mayo. The milk was reduced by almost half giving a thicker, creamier dressing. This is something I know I will repeat. Thanks for posting.
A wonderful, tasty dressing. Thanks Bone Man. It will be a regular for us!!
I decided to try this instead of my usual creamy garlic and dill dressing because I've liked other Frugal Gourmet recipes, and it looks interesting, but I was disappointed with the result. I felt the garlic was overpowering, and was more biting than I expected. I think the sour cream (instead of the cottage cheese) in my usual recipe gives it a mellowness that was missing here, and although most times I have no problem using dried herbs instead of fresh, I think in this dressing I would have preferred fresh dill, which would also most likely have stood up better to the garlic.