twissis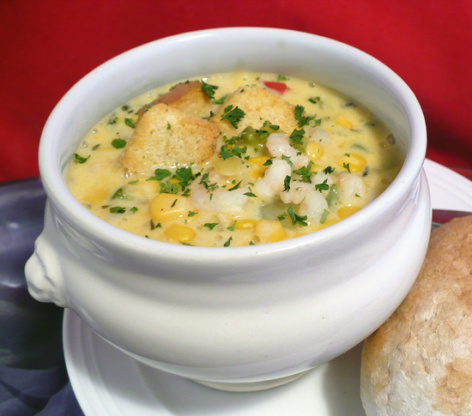 From Eat Better America. This sounds really good.

This chowder is excellent! It is easy to make & rich, but still low-fat & low-cal (altho the corn in butter sauce will alter the data to a degree). The # of servings is right-on & it is very hearty & filling. DH & I made a meal of 1 bowl of it + a crusty roll. I used Icelandic baby shrimp, a mix of red & green bell pepper for color & added Old Bay as I always do when using shrimp. I esp like all the veggies here as they add so much flavor, color, texture & bulk to the chowder. Thx for sharing your recipe w/us.
Let frozen corn stand at room temperature to thaw slightly.
In 4-quart saucepan, heat oil over medium heat. Cook onion, bell pepper, celery and garlic in oil, stirring frequently, until tender. Add broth, potato, thyme and ground red pepper. Heat to boiling. Reduce heat; cover and simmer 10 minutes.
Remove frozen corn from pouch; add corn to mixture in saucepan. Heat to boiling, stirring frequently to break up frozen corn. Using wire whisk, stir flour into milk until smooth; stir into mixture in saucepan. Heat to boiling. Reduce heat; simmer uncovered about 5 minutes or until vegetables are tender and soup is thickened. Stir in shrimp; cook 1 to 2 minutes or until hot.