Cool Kitchen Chop in a Crock Pot Dinner
PaulaG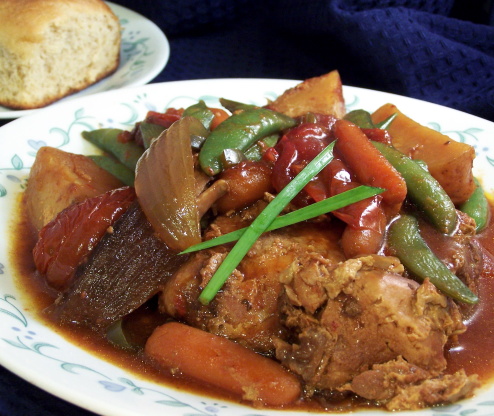 This recipe is great for summer or winter. It is an all in one dinner that takes minutes to prepare. Add your own favorite vegetables or stay with the ones in the recipe. In summer you may wish to put your crock pot outside on the patio while it cooks. In Winter let the aromas fill your house. It is wonderful. Serve with crusty bread to sop up the sauce. Enjoy! If you wish cook this on high for a total of 3 1/2 hours.
YUM!! My husband loved this meal Since I am a vegetarian, I picked out all of the vegetables and those were amazing as well. We will definitely be having these again.
Mix together the broth, BBQ sauce & Dijon mustard.
Pour a little in the bottom of the crock pot.
Place chops in the crock pot.
Add remaining ingredients except the snow peas, corn starch and water.
Season with salt & pepper.
Pour the chicken broth/BBQ sauce over the crock pot contents.
Put the lid on, turn to low cook for 6 1/2 hours.
Mix cornstarch with water add to crock pot, stir it in .
Add snow peas.
Continue cooking on high for another 1/2 hour.
Serve and enjoy.