Consomme Pork Chops and Rice
teresas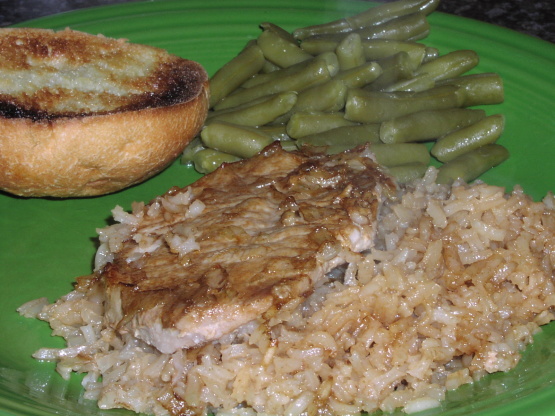 This is a very easy and good pork chop recipe that I have been making for 30 years. This recipe could be cut in half and baked in an 8X8 pan instead.

Delicious! This didn't seem like it would be packed full of yummy flavor...there really isn't any herbs or spices...but it sure is comfort food at it's best...it's not pretty but it sure is tasty...I did cut the recipe in half and used 4 skinny boneless pork chops...made for Spring PAC 2013 =)
Preheat oven to 350 degrees.
Over medium high heat in dutch oven on the stove, combine rice, butter and onion. Cook until rice is lightly browned, butter melted and onion soft.
Add 2 cans Consomme Beef soup
Add 1 can water.
Add 1/2 teaspoon fresh ground black pepper.
Bring to a boil.
lightly spray a 9X13 pan and pour mixture into sprayed pan; distributing mixture evenly.
lay pork chops in a single layer over the top.
Bake for 1 hour uncovered.