Parsley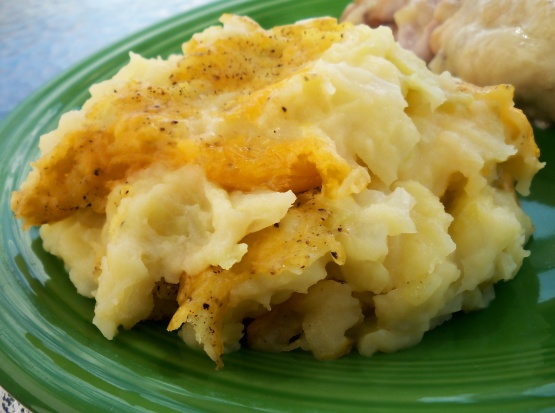 Got this out of a Jane Brody cookbook. I guess I like it because it has cheese! And I definitely use more than the recipe calls for. I wasn't sure about the prep time - think that would depend on various factors...so I upped it a little.

I made this for St. Patrick's day. It was very good & I will be making it again, however I think I will add a bit more seasoning as it was just a bit bland for my taste. A little more salt & pepper & it should be good to go. I also liked the suggestion of sour cream.
Boil potatoes in lightly salted water until tender.
Drain,reserving the liquid,and set them aside to cool Using the reserved potato water,boil the cabbage and onion for about 5 minutes- Drain and set aside.
When potatoes are cool enough to handle,peel and mash with milk,butter,and salt and pepper,to taste.
Add the reserved onion and cabbage mixture.
Mix 2/3 of the cheese with the potatoes and transfer to a greased casserole or shallow baking dish.
Sprinkle with remaining cheese on top.
Heat in a moderately hot oven and let cheese on top brown slightly.