Coconut Macaroons With a Chocolate Topping
lobquin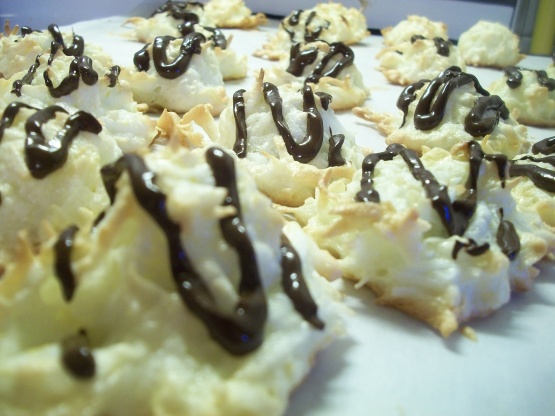 Yummy Yummy treat for coconut and chocolate fans taken from the Family Circle cookery encyclopedia. I like the addition of the rind in this one.

This were so good. I've never really liked macaroons; but I had some egg whites I had to use up. The lemon zest in these make them so delicious. I will be making these often from now on. I also drizzled chocolate instead of dipping. I put the chocolate into a ziptop bag and let it sit in some hot water for a bit. Dry the bag, snip a corner and there you go. Oh, and a little note for others: 160C is about 325F. Try these you won't be disappointed! Thank you!
Preheat oven to 160°C Line a big tray with baking paper.
Place egg whites in a bowl and beat with an electric beater until soft peaks form.
Add the sugar slowly and continue beating till mixture appears thick and shiny and the sugar is completely dissovled.
Add the grated rind and beat till it is just mixed.
Add the coconut and the cornflour and stir with a metal spoon till they are just incorporated well into the mixture.
(DO not stir too much) Drop one heaped teaspoonful of the mixture onto the tray about 3-4 cms from each other and bake on the top shelf for 15-20 minutes or till the top is light golden in colour.
Cool macaroons and then dip half into the melted chocolate.
Allow the chocolate to set before serving.