luvcookn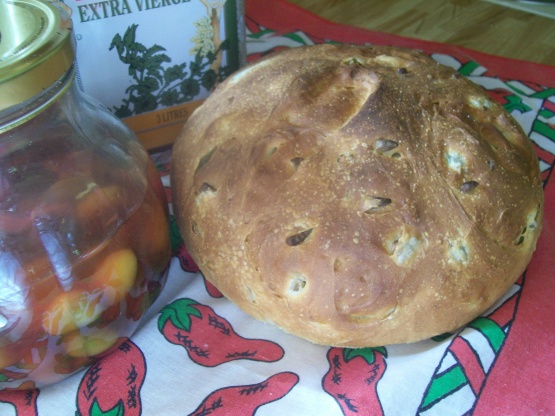 From Canadian Living Nov 2005 Posting for safe keeping and haven't made it yet. Times are approximate I also included an ABM method for the dough only Tip: Starting at a high oven temperature then reducing it plus baking the bread with a pan of water on the bottom rack creates a crisp crust

LOVED this bread! I used the dough cycle on the bread machine & then shaped into 8 buns. The buns grew into monster salad plate size buns. Next time I will make 12. LOL They were soft, fluffly, and a very light texture; perfect for sandwiches! The only changes made were adding 1/2 cup of chopped walnuts and using canned chipotles. I was expecting a background note of smoky heat and that was missing. Next time I plan to increase the chipotle because I think it will only add to this wonderful bread. The chunks of olives & walnuts were delightful & I definitely want to continue adding them by hand so they aren't chopped to bits. I used the buns for a deli roast beef sandwich & they were delicious! Thank you for sharing this FAB recipe!
In large bowl, dissolve sugar in warm water; sprinkle in yeast and let stand until frothy, about 10 minutes. Stir in milk, oil and chipotle pepper. Stir in 3-1/2 cups (875 mL) of the flour and salt to form shaggy, moist dough.
Turn out onto floured surface; knead until smooth and elastic, dusting with remaining flour as necessary to prevent sticking, about 8 minutes. Place in greased bowl, turning to grease all over. Cover with plastic wrap; let rise in warm draft-free place until doubled in bulk, about 1-1/2 hours.
Punch down dough. Turn out onto well-floured surface; knead in olives until evenly distributed. Form into ball. Dust large rimless baking sheet with cornmeal; place dough on sheet. Cover with damp tea towel; let rise in warm draft-free place until doubled in bulk, about 45 minutes.
Place metal cake pan with 1 cup (250 mL) water on bottom rack of oven. Place second rack in centre and heat to 450°F (230°C). Using serrated knife, cut 1/4-inch (1 cm) deep X on top of loaf. Bake in centre of oven for 10 minutes. Reduce heat to 400°F (200°C); bake until golden and loaf sounds hollow when tapped on bottom, about 30 minutes. Let cool on rack. (Make-ahead: Store in plastic bag at room temperature for up to 24 hours or overwrap in heavy-duty foil and freeze for up to 1 month.)
Additional Information.
Bread Machine Variation for Dough Only: In pan of machine, add (in order) water, sugar, milk, oil, chipotle pepper, salt, 4 cups all-purpose flour and 1-1/2 tsp bread-machine or quick-rising (instant) dry yeast. (Do not let yeast touch liquid.) Choose dough setting. When complete, remove from pan. Knead in olives. Shape and bake as directed.