PaulaG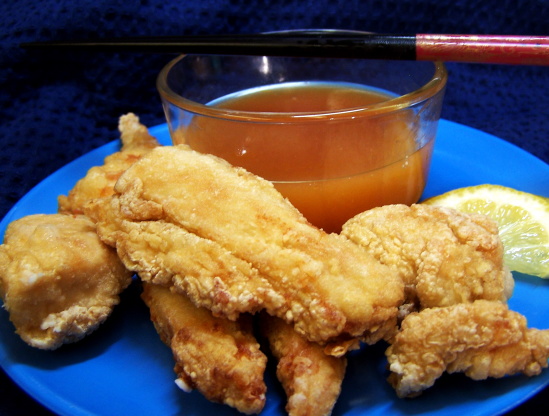 This is great served with jasmine rice. If you like a lot of sauce you might want to double it.

I've been making this recipe for years- think I got it out of a newspaper long ago and am glad to see it here. I made it last night per a request as I hadn't made it for ages. I'd forgotten how good it is! I use fresh lemon juice and find the amount of sauce is just right. The chicken is nice and tender as well. Thanks so much for posting this.
Mix together the egg, 1T cornstarch and soy sauce.
Place in a gallon size ziplock with the chicken and allow to marinade 10 minutes or more.
Heat oil in pan -- while it is heating dip each piece in additional cornstarch and place in frypan cooking till done and golden brown.
Sauce:.
Mix first 4 sauce ingredients in a sauce pan.
Add water, juice, and ketchup whisking to prevent lumps.
Cook till thick and clear and serve with chicken over rice or use as dipping sauce and "chicken nuggets".
Cook time is approximate.