Chinese Chicken Burgers With Rainbow Sesame Slaw-Contest Winner!
Slatts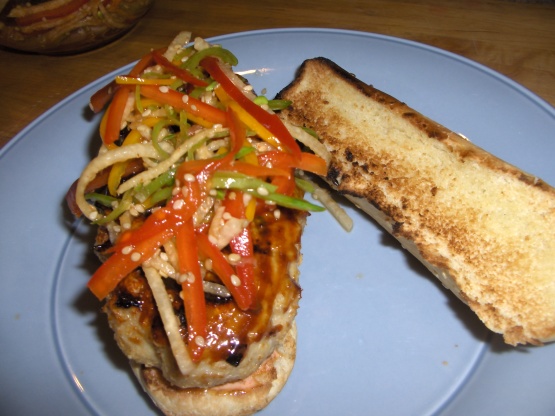 This is Brigitte Nguyen's $50,000 Grand Prize recipe in the 2009 National Chicken Cooking Contest put on by the National Chicken Council. Geared to big appetites, it could easily be turned into eight burgers rather than six. Cook them on the grill or in a frying pan if you prefer. As a shortcut, you could substitute 2 cups of already-grated cabbage for the julienned vegetables in the slaw. Look for Sriracha chile sauce on the Asian aisle of the supermarket. Any type of Asian chile sauce may be substituted.

This Recipe was great!! It was a huge hit with my Family. I did also add bread crumbs to hold it together better. Just a note cut the slaw very very thin it is better that way. Thanks!!
In large bowl, mix together ground chicken, soy sauce, sugar, sesame oil, garlic, lemongrass and scallions. Divide the mixture into 6 patties and set aside.
Place a grill pan over medium heat. Spread softened butter on hamburger buns and place on grill pan until light brown. Wipe grill pan with paper towel and brush with vegetable oil.
Place chicken patties on grill pan and cook over medium-high heat, turning once, until internal temperature reaches 165 degrees, about 7 minutes per side. During last few minutes of cooking, baste each burger with 1 tablespoon of the hoisin sauce.
To assemble, place 1 tablespoon Sriracha Lime Mayo on each bottom and top bun. Place chicken on bun bottoms and top each with 1/3 cup Rainbow Sesame Slaw. Serve with any remaining slaw and mayo on the side. Garnish with scallions. Enjoy!
Makes 6 servings.
Sriracha Lime Mayo:.
In small bowl, mix together mayonnaise, zest and juice of lime and Sriracha chile sauce. Set aside.
Rainbow Sesame Slaw:
In medium size bowl, mix together bell peppers, julienned snow peas, julienned jicama, rice wine vinegar, sugar, soy sauce, Sriracha chile sauce, sesame oil and toasted sesame seeds.