Chicken With Orange-Soy Salsa (Light)
lazyme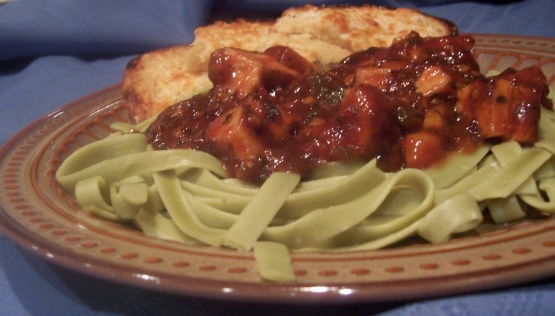 I adapted this recipe of R. Reisman to make it with chicken breasts - I have also made it with chicken thighs - and both ways are really really good! You can use hot salsa for extra spice.

Loved the dish--doubled the sauce(always do) made as directed and it was wonderful--made a second time and threw in a couple handfulls of tri colored bell pepper that I had cut up for a stir fry--nice twist--goes in the family approved repeat file--Thanks Redsie--
Preheat oven to 425°F (220°C).
Dust chicken breasts with flour. In a large nonstick frying pan sprayed with cooking spray, heat oil over medium-high heat; in batches, cook chicken until browned on all sides, about 5 minutes per batch. Transfer to a 13 x 9-inch baking dish.
In a bowl, stir together salsa, honey, orange juice concentrate, soy sauce, cornstarch, mustard, garlic, and ginger; pour over chicken.
Bake, uncovered, in centre of oven for 20 to 30 minutes, or until chicken is cooked through. Garnish with parsley.