ImPat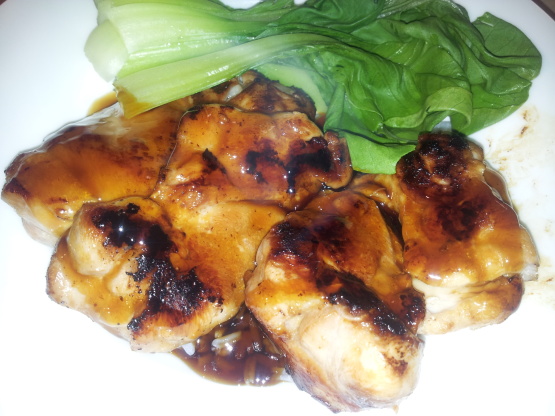 This is a spin off of the teriyaki chicken, which I was so used to, when I lived in Washington state, It is not available where I now live, so I decided to make my own, this is my own recipe. It has only a few ingredients and is so easy to make.

Top Review by ImPat
Scaled back for 1 serve and used 3 small boneless skinless thighs with a weight of about 5 ounces and served over rice and with steamed baby bok choy to make a super quick meal. For the sauce I put into a microwave jug and cooked for 2 minutes of high (900 watt microwave) stirring every 30 seconds for a nice thick and intense sauce to go over the chicken and the rice and in both the sauce and the marinade I used brown sugar. Thank you miomic, made for Bargain Basement tag game.
In a small bowl, combine all marinade ingredients.
Place chicken and (marinade) ingredients in a storage bag and marinade for 1-3 hrs in refrigerator.
In a small pot combine all (sauce) ingredients and whisk well, set aside until the chicken is ready to be cooked.
Heat oil in a large frying pan to med heat.
Add marinated chicken to hot pan,fry 5-7 minutes on one side,then flip over and cook other side for another 5-7 minutes.
Meanwhile heat (sauce) ingredients in pot on medium high heat,whisking frequently,until sauce boils,then turn to low and simmer for 2-3 minutes.
Take cooked chicken out of the pan and cut into 1/2 inch pieces.
Place the cooked chicken pieces over white rice,then pour on the (sauce) mixture as desired.