-Sylvie-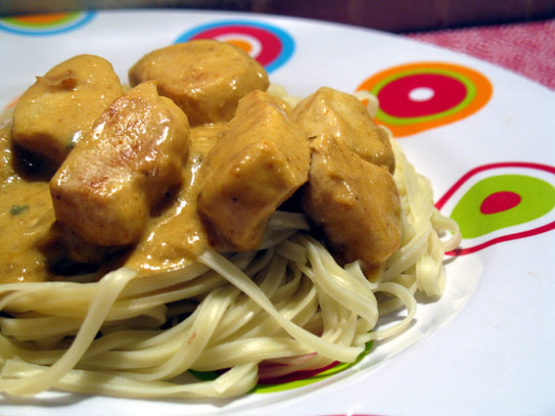 This is a favorite family recipe we received from a good friend. One batch is never enough! The recipe is so versatile that you can add tofu, mushrooms, or any other vegetables to your liking!

Once in a rare while a recipe will come along which exactly meets the standards of the most discriminating of your tastebuds. This is such a recipe! It was quite straight forward to make and a joy to eat. I was torn between wanting to stay at the table to eat more or rush back to the kitchen to get another batch started so that when I finished eating the first I wouldn't have to wait for the next batch. My advice to folks contemplating making this recipe would be to double the recipe right up front. Serve your favorite Pad Thai Noodle recipe along with this dish and your reputation will be made. Thanks, ShannonBecker!!
In a medium sauce pan heat coconut milk, curry paste, peanut butter, sugar, and fish sauce until they come to a very small boil.
Set aside and cool adding cornstarch to thicken.
While the sauce is cooling, stir fry 1 chopped onion and 1 T minced garlic.
Cut up chicken into small pieces and stir fry with the onion and garlic until chicken is cooked through.
Combine the garlic, onion and chicken with the sauce and heat.
Spoon the chicken peanut curry over rice and enjoy.